ABOUT LICENSEE PROGRAM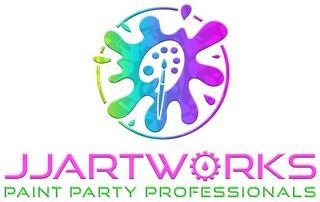 JJArtworks™ Paint Party Professionals - ​Licensee Program
Do you want to be your own boss and run your own business?  Do you have a passion for the arts and want to make a living doing something artistic?  We're sure you have plenty of questions regarding our licensee program, so we've setup this page in a "Frequently Asked Questions" format so it's easier for you to read and get the information you want quickly.  This covers some of the common questions we get asked, but please feel free to email us at info@jjartworks.com if you have any other questions or feel free to fill out our contact form below. Running your own business is meant to be a liberating, empowering, and exhilarating time of your life, and we're here to give you the tools, support, and confidence to do just that!
A license is a contract through which one party grants another permission to use its patents, trademarks, copyrights, designs or trade secrets. The organization receiving the license, or licensee, compensates the licensor by paying a flat fee, royalties or a combination of the two.  In our case, when you become a JJArtworks™ Paint Party Professionals Licensee, we are giving you permission to use our trademark and run your own paint party business using our systems and knowledge base within our general guidelines.  We compensate you by giving you a percentage of ticket sales and you are truly an independent contractor and run your own business.  

We are NOT a franchise, and do not sell "paint and sip" studio locations.  Examples of franchises are like McDonald's, KFC, or 7-Eleven where you would spend hundreds of thousands of dollars to own your own location and get up and running.  We are a mobile service based company and don't plan on creating or selling properties in the future.  We like showing other entrepreneurs how to use our systems to create their own thriving mobile paint party businesses using the JJArtworks™ brand name.  We've been doing this for a while now and can teach you how to succeed at running your own paint party business easy as pie!
When you become a JJArtworks™ licensee you have freedom.  Freedom to be your own boss.  Freedom to make your own hours. Freedom to grow as much or as fast as you want.  When you become a licensee, you truly are running your own business and get to pave your own road to success.  Since you'll be running your own business, you'll be doing things like booking your own events, creating your own paintings to teach, doing your own admin work like emailing contacts, promoting your events, ordering supplies, etc., but we know how overwhelming it can be at first and we're here to help you and encourage you.  Here are the benefits you'll receive if you become a JJArtworks™ licensee and join the team:


Access to our systems (Event ticketing software, email software, calendar system, and social media platforms)
Daily licensee support via email and phone
Invoicing help for bigger accounts
High profit margins​
Free training (over 2.5 hours of training videos!)
Personalized business cards
Flyer design
Custom business email and email signature
Affordable paint party starter kits
Referral bonuses
Weekly paychecks
Customer email templates
Account referrals
Immediate access to our painting library
Promotion on our website, social media, and to our mailing list
Ability to do multiple daily events
Being a part of an encouraging team and community!
ABSOLUTELY, but like any business, you get what you put into it.  J.J. didn't decide to expand the company until he spent a year on his own teaching his own events, testing out his own systems, and working out the kinks of his business.  In 2015 J.J. was able to teach 75 paint parties and he traveled across 6 states to serve all of his customers.  On average that's teaching about 6 events a month. He was able to support himself solely off of teaching paint parties.  No side job.  No family inheritance.  Just himself, with his easels, canvases, brushes, and paints.  He painted in private homes, bars, restaurants, community centers, schools, church basements, american legions, and function halls.  He painted for fundraisers, office parties, kids parties, team building workshops, baby showers, birthday parties, corporate events, holiday parties, and more.  His group sizes ranged from 10 people to around 40 people and he drove within a 5 hour radius because he's crazy and loves to drive (an old habit from touring in bands).

So obviously, the more events you teach the more money you will make.  We also have the profit margin set at a high enough percentage for our licensees that at some point when you get into a rhythm with booking events and you have enough accounts, that you can start hiring your own artists and assistants to teach for you!  This might not happen immediately, but it's definitely possible and you can read a testimonial from our own licensee artist Lauren Perron who is slowly building her own JJArtworks Paint Party empire! (you can read Lauren's testimonialhere).  Our licensees see a high percentage of ticket sales, so we don't pay you a small flat rate fee like you might make teaching at a paint and sip studio.
No, you do not have to be an already established artist or teacher to be a paint party licensee.  If you have a passion for the arts and have an entrepreneurial drive we'd love to work with you.  Typically most of our licensees are artists with degrees (or fine art hobbyists) who then learn how to teach and run their own paint party business, but if you have a great sales background, don't have an artistic bone in your body, but know how to run a business and want to have other artists work for you to build your own paint party empire, then by all means feel free to reach out to us and we'll show you the ropes. 
Nope, you'll be an independent contractor and you'll be operating your own paint party business.  Once you've decide that you'd like to work with us, we'll have you sign a licensee agreement with us, have you fill out a W9, and at the end of the year we'll send you a 1099 for your annual taxes.  Since you're your own business owner, you're responsible for your own health insurance and you'll also have to purchase your own liability insurance for your business (to protect your paint party guests in case of emergencies), but we can walk you through that process and refer you to an insurance company if you need help finding one.
Our ideal licensee is someone that has a passion for the arts, is sociable, loves people, and is someone with an intense entrepreneurial drive.  This person is email savvy, is familiar with social media, knows their way around a computer, is familiar with Word & Excel, and has a smart phone.  This person also has a vehicle, isn't afraid of traveling, and is willing to drive within an hour radius or further from where they live to get to an event.  This person loves event coordination, promoting, running errands, doesn't mind admin work or some grunt work now and then, and understands that their success is in direct relation to their own work ethic. This person loves to paint, is motivated to paint, and wants to add value to people's lives by giving them a unique experience through their paint parties.  This person also teaches a minimum of 2 events a month and aims to teach more because they know the more events they teach the more money they make, and the sooner they can expand their own paint party business and begin making passive money.
No, you do not need to buy a starter kit to get started.  We've taken the time and hassle to package everything together for you to make your life a little bit more convenient, but it's totally up to you.  Our starter kit is priced at $500 (this includes shipping and handling - tax is additional for MA customers), but to be honest, you'll probably be saving between $50-$75 or so if you purchase all of the supplies on your own (we price our starter kit a little bit higher to include this convenience fee).  We do require that you purchase from the manufacturers we use and we'll give you the manufacturers and model #'s for all of our easels, brush sets, paints, squirt bottles, floor standing easels, etc. if you decide to do this option.  You'll also need to order your custom JJArtworks aprons from us and when you do this we'll include a JJArtworks T-shirt, postcards, and your business cards on the house!  This is probably the more cost effective method for you, but if you'd prefer everything to arrive to you in one box, we totally get it.If you decide to purchase our paint party starter kit, our kit comes shipped in one box with 12 table top easels, 12 brush sets, 12 JJArtworks™ aprons, 5 canvases, 5 32oz bottles of paint (red, yellow, blue, black, and white), a stack of cups, plates, and napkins, a pack of postcards, and a JJArtworks™ T-shirt to wear at your events.  We will also include 250 personalized business cards which will be sent in a separate shipment.  We promise you that the quality of the art supplies that we use are what we consider to be the industry standard from our own experience doing paint parties over the years.  Like beginning any new business venture, there are "start up" costs involved, but we promise you this will be one of the most worthwhile investments you ever make in yourself.  

There are a few additional supplies you'll need after purchasing your starter kit (we don't like to mislead you in any way) and the only reason we didn't include them is because we couldn't fit them in the box :)  You'll also need to purchase 2 floor standing display easels (one that you teach from and one that you display the sample painting on), a roll of pink table cloth, a water pitcher, and a water bucket.  Other than that, you'll have all the necessary items to launch your business, and all you'll have to do is keep replenishing canvases, paints, and paper products as you profit from events.  
At JJArtworks we are a very mindful and humble company and we believe in adding value up front first to both our artists and customers. We want to give you a sneak peek of the level of professionalism that we exhibit as a company and we also want to give you an overall feel for us as people and what you can expect by working with us. We're very proud of our training series and here are 3 videos to give you a taste of what you can expect if you decide to work with us:
That's great!  The best way to reach us is to fill out the Licensee Contact Form below.  You can also shoot us an email atinfo@jjartworks.comif you prefer or you can reach our Customer Service Department by dialing 877-259-8595.  We will respond to your requests within 48hrs, probably sooner!
Training Video 1 - "Unloading For A Paint Party"
Training Video 12 - "Teaching A Paint Party"
Training Video 14 - "Paint Party Pacing and Photos"
JJArtworks Paint Party Licensee Form
*We will respond to your requests within 48hrs, probably sooner!