Book A Paint Party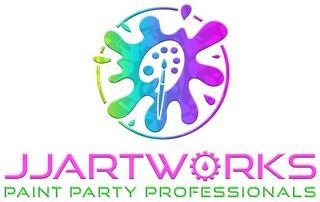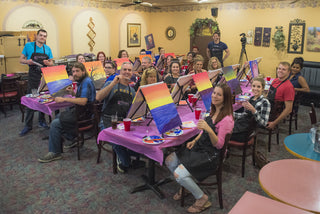 Reserving A Private Paint Party
To reserve a private paint party feel free to fill out the contact form below, shoot us an email at info@jjartworks.com, or call our booking department at 877-259-8595. We do paint parties both day and night Monday through Sunday. Once you have reserved a date, you and your guests get to decide what painting you'd like to recreate by choosing from a library of sample paintings on the website. As the days get closer to your event, we will keep in constant contact to make sure your party runs as smoothly as possible. Start getting excited for your event and expect the best!
Payment
We accept debit/credit cards (Visa, MC, Discover, Amex) and checks. Unfortunately we do not accept cash at this time. If paying by check, we prefer payment at least a week prior to the event. There are a few different ways payments can be processed for private parties. The most common option is having your guests pay for their spots individually by clicking on a secure checkout link which we will provide and they can pay using a debit or credit card online. When you confirm for a party, we will create the private ticket link and send it to you via email. When your guests purchase the digital tickets online, they will not be mailed a physical ticket in the mail, but instead we will add their names to a guest list.
Virtual Events
We are happy to offer virtual paint parties as a way to bring people together remotely in the comfort of their office or home. When booking a private virtual paint party, we can accommodate guests across the country by shipping out our custom paint kits to your guests homes. All of our paint kits come pre-sealed in plastic and have been safely packaged. We can accommodate groups over 500+ people via live streaming video software such as Zoom, Google Meet, etc. This is a great way to socialize and unwind with your family members, friends, and coworkers. We look forward to painting with you soon!