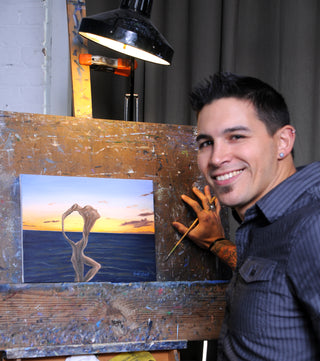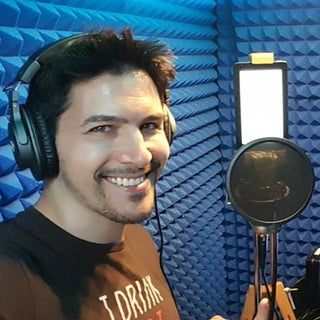 Building A Brand
As JJ's love for art grows in all media types, so will the JJArtworks™ brand. It is with this umbrella name that JJ and his team seek to add value to the world, through their creative passions across all mediums.
Since childhood, JJ has always had an inclination for art in all its forms. He loved drawing in coloring books, doing pencil sketches, and singing in the choir as a male soprano in his family's church. JJ. continued taking art classes throughout elementary school, middle school and high school and decided to attend the University of New Hampshire where he received a bachelors of arts degree with a focus in oil painting in 2003.

After graduating from UNH, Long began surviving solely off of his oil painting in 2005. He made his living from selling his oil paintings at gallery shows, open studios, art festivals, coffee shops, and art exhibitions all over New England and also from being hired to do commission work for clients such as pet portraits and murals. In conjunction with his oil painting career, JJ aggressively began pursuing a music career as well. In 2004 he joined the rock band "Asystole" which started a great foundation for his music career. He enjoyed performing on stages all across New England, releasing an EP, and doing a few east coast tours. When the group disbanded in 2007, Long took a year off from music to further establish his fine art career, pay off some debt, and create more stability for his art business called JJArtworks™. After JJ had taken enough time off to stabilize his art business, he got the "band" itch again and decided to audition for other professional music groups.

In 2008 Long joined the metal band "Hell Within" based out of Lowell, MA. At the time Hell Within was already signed to German/American label Lifeforce Records which gave them great credibility in the U.S. and European markets. In 2010 the band signed with Thorp Records and in July of that year, they released their Thorp debut full-length cd entitled "God Grant Me Vengeance" which was well received by fans. During his tenure with the band, JJ was able to participate in 3 Full U.S. Tours and a few east coast tours. Through the rigorous touring lifestyle, he was able to gain a great perspective on the evolving music industry and apply many of the marketing tactics that he learned from the music business into his fine art career as well. Due in large part to the fact that JJ wanted to focus primarily on his oil painting career, the band disbanded on November 11, 2011.

For all of 2012, Long focused primarily again on his oil painting career seeking out more gallery representation and also touring New England relentlessly, this time with his EZ-Up Tent and paintings in hand rather than musical equipment. From May 2012 – October 2012, JJ participated in over 50 art festivals/shows during the peak Spring, Summer, and Fall seasons. His relentless commitment to the "road show" lifestyle helped alleviate much of the financial stress he was experiencing in his life at that point. Toward the end of 2012, Long decided to refine his art style even more by branching away from traditional realism and focusing primarily on fantasy and surreal art.

In March of 2013, JJ began pursuing a professional acting career in conjunction with his painting career. Long discovered that conveying the human emotion in front of the camera lens was another creative path that sparked a transformation in his life. JJ has performed in a number of short independent films, commercials, industrial videos, and web series. He has also done extra work for some larger networks on television such as Lifetime, HBO, and Netflix. As a natural transition from the acting world long discovered the art of voice over and took classes at Soundtrack Studios in Boston, MA.

In February of 2015, Long created a new branch of his business called "JJArtworks™ Paint Party Professionals" which specializes in social painting events. He now teaches "paint and sip" parties where people get the chance to create a painting on canvas while enjoying a cocktail or an appetizer, socializing, and relaxing in a comfortable environment. His company provides all of the art materials along with setup, cleanup, and 2 hours of painting instruction. The company specializes in private parties, corporate events, office parties, fundraisers, team building events, kid's parties, birthday parties, date nights, and more.

In January of 2016, JJ relocated his paint party business to the Western Avenue Studios in Lowell, MA. The company also turned into an LLC that year and began the process of expanding with the addition of new licensees, artists, and employees. JJ decided to put a hold on his music and acting careers while he spent the necessary time building the foundation of his paint party business. His goal was to break into the National marketplace within the next 2 years.

In 2017, JJ relocated his headquarters to the Appleton Mills in Lowell, MA where he is currently running and operating his paint party business. That year, the company finished creating the JJArtworks™ Licensee Program which consists of over 2.5 hours of training videos, tutorial videos, and an extensive training manual to train artists across the country how to run and operate their own paint party business using the JJArtworks™ trademark, business systems, and their knowledgeable support staff. The licensee program has been a success for the company, and JJArtworks continues to hire licensee artists across the country to grow their brand and life's mission, to spread the joy of painting to the masses.

In August of 2017, JJ created the newest branch of the JJArtworks brand called "JJArtworks™ Fine Art". JJArtworks™ Fine Art consists of all of the founder's professional artwork he has done throughout the years such as original oil and acrylic paintings, murals, and commissioned work, as well as kickstarting a new era of original paintings consisting of surreal imagery infused with elements of spirituality and fantasy concepts. Along with the reemergence of JJ's professional artwork, JJArtworks™ Fine Art also features a sleek looking online storefront where customers can buy prints of the founder's work as well as original paintings. JJ plans on hiring other artists in the future to also sell their artwork via the JJArtworks™ Fine Art network.​

Now in 2018, JJ plans to add a new music and audio branch to JJArtworks™. The company just invested money in a state of the art sound recording booth and they plan to record music, do voiceovers, and narrate audiobooks as another expansion of JJArtworks™. As JJ's love for art grows in all media types, so will the JJArtworks™ brand. It is with this umbrella name that JJ and his team seeks to add value to the world, through their creative passions across all mediums.